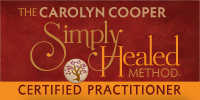 The SimplyHealed® Energy Method does exactly what the name implies – it simply heals.  The SimplyHealed® Method is a cutting-edge energy modality founded by Carolyn Cooper.
This breakthrough modality has healed countless lives, hearts and relationships.
Experience the life-altering liberation that comes with releasing years of emotional discord. Imagine past hurts, traumas, fears, inhibitions and insecurities you've been carrying aroun all your life – GONE!  You don't need to spend thousands of dollars and years of your life talking about the past.  You can begin experiencing the exhilaration of being simply healed in just one session.
Clients attest to the amazing life-healing changes they have experienced through phone sessions with Deena, but you don't have to take their word for it – discover the power of being simply healed for yourself today!
About SimplyHealed® – Carolyn Cooper felt the time was right for an energy modality that simply healed whatever is needed for the highest energy in all areas of life.  SimplyHealed® is a safe, professional technique that streamlines the energy healing process and produces lasting results.  SimplyHealed® is quick, effective, gentle and non-invasive.  With the help of a trained practitioner, lasting high vibrational energy (love, peace, faith and whatever is needed to create harmony in our life) is planted like a seed.
High energy allows you to experience an increase in confidence, peace, harmony, well-being, love, joy and enthusiasm – which enables you to be free to live life to the fullest!